If you are a lusciously curvaceous women, who wants to flaunt her curves with pride and confidence as she sashays into the pool or emerges out of the water at the beach, bodycon swimsuit is the answer to your beachwear dreams!
Bodycon swimsuits were launched back in the glorious 90's, and to this date, they remain as popular and trendy as ever. These beauties were invented and are shopped for women who are body conscious, and wish to accentuate their curves rather than shroud them up. This curve-hugging bodycon swimsuit is your best pick to encase your curvaceous figure in a sleekly structured fit, which will give your inner goddess a thunderous jolt of glamour.
It's the perfect pick for a woman who flaunts a sleek and polished statement at the beach, and wants to provide her bust an additional support while she's enjoying lap after lap of swimming in the ocean. It's comfy and breathable, which allows the water to dry off and keep you comfy as you air dry your body and get a gorgeous tan, lounging around the beach.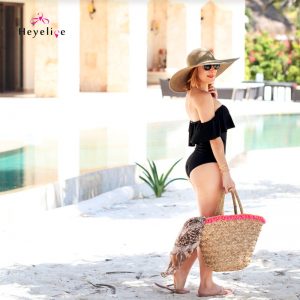 This swimsuit is highly suitable for an hour-glass woman, who has a ravishingly curvaceous figure, with a lean and narrow waist, and bust and hips of nearly the same size. The tight and stretchable material is perfect to accentuate the tiny waist, hold up the bust, and give the hips a curve-flattering fit. The construction of this insanely sexy bodycon swimsuit is made to create a sleek and perfect fit for a curvaceous woman, so she can flaunt her curves with pride and confidence.
The cleavage is perfectly modest yet sensual enough to give a flattering fit to your bust, while the stretchable material will give your waist and tummy a beguilingly attractive coverage. However, if you're not a busty woman, you can still invest in this piece to create the illusion of curves, or perhaps, give your tiny muffin top a soft nudge to go back inside, and flaunt a glamorous moment of lean abs and a slimmed-up waist.
This is the perfect swimsuit for women who have nothing to hide and everything to show! If you're the kind of woman who adores flaunting her sexy curves to a serious hilt, this basic bodycon swimsuit is a must-have!
It's a splendid delight for women who adore accessorising their beachwear staples, or adding in layers. Its neutral white or black base is perfect to style up heaps of chunky beads, navel grazing pendants, and raw stones-basically all the accessories that a bohemian girl loves to flaunt at the beach. And you can pair it up with any and every kimono because this design is truly versatile and voguish.
Flaunt it at beachside parties, casual gatherings, raves, pool parties and all other water-involving festivities that require you to literally stick out your lean abs, and flaunt your curvaceous figure to a seriously glamorous hilt.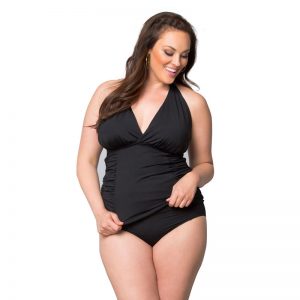 Its backless design is perfect to flaunt some edgy vibes at the beach, along with giving your thin waist a ravishingly figure-hugging fit to attract attention with every step you take on the sand. If you're planning a beachside vacation abroad, this staple is going to prove extremely effortless and insanely voguish at attracting attention and appreciation from the opposite sex without having to try too hard. *Wink Wink*
The short length has a provocatively sexy advantage if you're a bold and confident woman who never loses an opportunity to flaunt her long, sexy legs, but rather jumps at every instance she gets to play up her legs. If you're awfully proud of your lower body, this piece will definitely end up being the most worn swimsuit in your beachwear wardrobe.
The best thing about bodycon swimsuit is the definition that they add to your figure and their sleekness that gives your figure a well-structured appeal. If you're tired of swimsuits that do nothing to support or hold up your heavy bust, it's time you stopped investing in loose-fitted swimsuits and turn your attention towards bodycon. For if you have a busty chest, a sleekly lain waist and nicely rounded hips that you wouldn't get tired of flaunting all day long, this sensually minimalist bodycon swimsuit is just what you need!
It's sexy yet simple, minimalist yet intensely provocative, and lastly, figure-hugging yet comfy. Seriously, what more does a girl need when her comfort and style needs are amazingly fulfilled in the same bargain!
So, scoop up this insanely sexy bodycon swimsuit, style it up with your favourite beaded accessories, top your statement with a bright-hued kimono, or a gorgeous sarong perhaps, and seal it with a dark, crimson red lip. Head out to beach, and the action that will welcome you will certainly not be disappointing!